Novedades en Grindelia (Asteraceae, Astereae)
Palabras clave:
Taxonomía, Citología, Grindelia, Asteraceae, Argentina
Resumen
A new species of Grindelia from northeastern Argentina, G. chacoensis A. Bartoli & Tortosa is described. This species had been previously described by Cabrera as a variety of G. puberula Hook. & Arn. A key is provided to differenciate both species and other South American species of the genus with capitate glandular hairs. Haplopappus prunelloides (Poepp.) DC., a species from Argentina and Chile, is transfered to the genus Grindelia on the basis of its chromosome morphology and achene anatomy. Chromosome number (2n=12) and morphology of Grindelia boliviana Rusby is reported for the first time.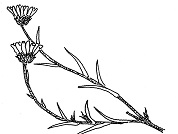 Descargas
Cómo citar
Bartoli, A., & Tortosa, R. D. (1999). Novedades en Grindelia (Asteraceae, Astereae). Hickenia, 3, (1): 1–4. Recuperado a partir de https://www.hickenia.darwin.edu.ar/index.php/hickenia/article/view/7
Licencia
Esta obra está bajo una licencia internacional Creative Commons Atribución-NoComercial-CompartirIgual 4.0.