Presencia del híbrido x Andropogon littoralis (Gramineae: Agrostideae) en Chile
Resumen
x Agropogon littoralis (Sm.) C. E. Hubb., originally described as a natural hybrid between Agrostis stolonifera L. and Polypogon monspeliensis Desf., is reported for the first time for Chile and America. This taxon is described and illustrated and the geographical distribution is included. The differences with the related species are mentioned. It should not be discarded that one of the parental species of the chilean hybrid could be P. australis Brongn.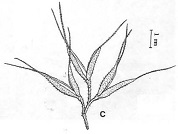 Descargas
Cómo citar
Rúgolo de Agrasar, Z. E., & Molina, A. M. (1997). Presencia del híbrido x Andropogon littoralis (Gramineae: Agrostideae) en Chile. Hickenia, 2, (44): 209–214. Recuperado a partir de https://www.hickenia.darwin.edu.ar/index.php/hickenia/article/view/193
Licencia
Derechos de autor 2022 Hickenia
Esta obra está bajo una licencia internacional Creative Commons Atribución-NoComercial-CompartirIgual 4.0.