Notas sobre gramíneas sudamericanas
Resumen
Notes on South American grasses. Three species of Gramineae not previously cited for Argentina: Chaetotropis parvula (Roseng., Arrill. et lzag.) Nicora, nov. comb., Luziola subintegra Swallen and L. gracillima Prodoehl are reported, described and illustrated. Some remarks about related species are included. A new name for Sporobolus exilis Renvoize: S. linearifolius Nicora, from Brasil and Paraguay and two new combinations: Diplachne scabra (Nees) Nicora and Leptochloa barbata (Desvaux) Parodi ex Nicora are proposed.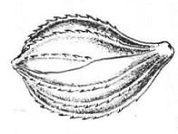 Descargas
Cómo citar
Nicora, E. G. (1993). Notas sobre gramíneas sudamericanas. Hickenia, 2, (19): 85–92. Recuperado a partir de https://www.hickenia.darwin.edu.ar/index.php/hickenia/article/view/161
Licencia
Derechos de autor 2022 Hickenia
Esta obra está bajo una licencia internacional Creative Commons Atribución-NoComercial-CompartirIgual 4.0.